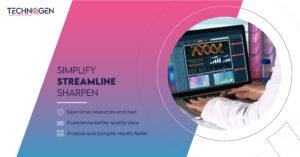 Pharmaceutical industry's rapid growth has not come without its challenges. Laboratories today face huge hurdles like data management, and rising demand for more tests at higher costs. There is an ever-growing need for technological solutions, especially in areas like life sciences. Laboratories must do away with manual operations to compete and innovate.
Automation is being introduced in every industry, including the pharmaceutical industry. Routine tasks that are done manually, like hand-writing forms and notes, are now being replaced by automation. Automating such tasks reduces human error, making the results more accurate and dependable. This reduces costs and saves time, leading to more effective task management. It also frees up resources that can instead be used in other areas involving cognitive tasks. In the case of pharmaceutical industry, automation plays a key role in clinical trials. By reducing human error, data can be more accurate, leading to better studies and results.
LabPulse is TechnoGen' s solution offering designed specifically to tackle these hurdles. It is a highly configurable solution designed for and by researchers in the life sciences industry. It is based on Salesforce which makes this solution highly versatile and adaptable. It is a software-as-a-service offering that runs on Cloud, giving users access to LabPulse anywhere and on any device. This flexibility improves tasks like a Analysis, Report Gathering and Inventory Management. The key features include Project Management, Collaboration, Quality and Compliance. LabPulse also aids in Animal Life Cycle Management, and Enterprise training. LabPulse helps track the entire project life cycle. LabPulse assists in Budget Management and Team Collaborations and improves the Project Management function by providing users with real time project status. LabPulse also provides space to track task assignments and analytics.
Critical tasks like task management for animal technicians is made easy and effective at every step using LabPulse. LabPulse helps study directors to find relevant projects and assign tasks to the respective researchers. Researchers benefit from LabPulse as it helps them locate their assigned tasks easily. LabPulse then aids in keeping track of ongoing and executed tasks in real-time. The real- time tracking feature helps improve the flow of tasks by providing analytics on the existing open and closed tasks. Finally, LabPulse improves the auditability of tasks by tracking all changes.
LabPulse features Live chat, Electronic Signatures and Version Management. Other key features include Citation Management, Protocol Management, and Enterprise Training.
LabPulse is designed for CROs to track, monitor, analyze, and manage tasks and projects in a better and more cost-effective way. Using LabPulse, CROs can meet client needs and produce more accurate results. T hus, businesses can eliminate human error by automating routine tasks. Make the most of automation with TechnoGen' s LabPulse!